On September 27–29, the 69th JOS meeting was held at Pacifico Yokohama.

At this time, I submitted 3 Lingual Orthodontics cases for my renewal of Japan Orthodontic Board, and fortunately all cases passed the exam.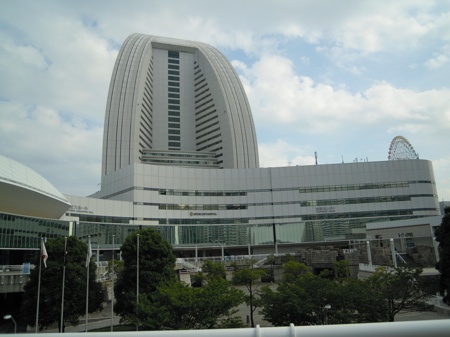 This is the venue of JOS, Pacifico Yokohama Conference Centre

Japan Orthodontic Board was established in 2006, and I passed the 1st exam in Sapporo, as I already wrote in my Blog.
This is quite strict exam, held completely anonymous.
Actually, one Professor and Chairman, Department of Orthodontics, ●● Dental University, had failed it twice.

Since the License is valid for five years, License holders who were certified in 2006 must pass the renewal exam before November 2011.
In order to renew the License, she/he must submit the cases treated by herself/himself, treatment ended after 2006, retained more than 2 years, for JOS meeting and pass it at least 3 cases.

Because of my constant overworking for my practice, preparing for Congress and Presentations, I was not aware of the renewal exam, and was thinking I could renew my License just submitting application forms for JOS,,,(there are no such things as free lunch,,,).

Around a half year ago, I was just talking with my friend, and she said "Toshi, how many certificates have you gotten?"
"Certificates? For what?" I replied, and then I found out about the renewal exam.
I lost my mind because I did nothing last 4 years.

After coming back to my office, and "talking" to thousands of treatment records,
I decided to submit all cases treated with Lingual as I tried EBO and M-Ortho.
Finally six cases were selected, then I asked the patients if they could sign the application form or not because patients' written agreements are required for JBO exam.
I was so happy because all patients signed gladly.

Finally 3 cases were selected from these 6 cases(Angle Class I crowding Extraction case, Angle Class II div.1 Extraction case, Angle Class II div.1 Non-extraction case, Angle Class II div.2 Extraction case, Angle Class II div.2 Non-extraction case, Angle Class III Non-extraction Non-Surgical case) and the preparation for exam was started 3 weeks before the JOS.

However,,, I am too busy for my practice everyday, I didn't have any time to sum the records up as I experienced in the past other exam.
Therefore, I woke up at 5:00 every morning and did paper work for weekdays, all day long for my off days.

Just a week before the JOS, I found out that one of them did not satisfy the regulations, because the retention period of 2nd case was a week shorter.
"Oh my Budda!", everything I did for 2nd case changed to trash, but it is my fault.
I picked up another case, and sent X-rays and dental casts for duplicate.

Finally September 25th had come, the day before JOS.
I must leave my home, but filing records were not completed, so I put lots of stationery and a Light Box in my car, headed to Yokohama.
Right after checking in the hotel, I started to work, and fortunately I could finish my work in the morning of JOS.

Scratching my red eyes, I went to the room for JOB and presented my cases.
After presenting the cases, candidates must not stay in the room, so I headed to my room to sleep.
When I got on the Lift, an elder foreign couple glanced at my nametag and asked me "JOS?"
I replied "Yes, sir, I have just put my cases for renewal of ,,," and then I realized that they were Dr.Thomas Mulligan, a God of Orthodontics, and his wife!
"Really?!?!? Oh my god, I am so happy to see you! I have your book, Common Sense Mechanics!"
Then he said "Oh, you poor guy!", and laughed.
(I should have taken a picture with them,,)

After taking some rest, I went to "Tookarou" in China town and had Lunch.
I used to go there because they serve quite nice Shark Fins at a reasonable price.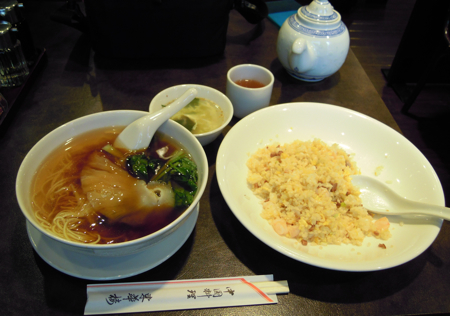 However, the taste was different from that I had before, the noodle was different,,.

The next day, I attended the Joint Meeting of Korea and Japan .
Dr.Sang-Cheol Kim's "Functional Diagnosis for Class II malocclusion", Dr.Itou Kazuaki's "Functional Appliance used for treating Class II patients in the growth period –Clinical efficacy of Bite Jumping Appliance(BJA)", Dr.Byoung-Ho Kim's " Surgical strategies in skeletal class II malocclusion " were interesting lectures.

After Dr.Itou's presentation, I raised my hand and asked him why he didn't use Orthopedic force because in general Class II Div.1 cases have Gummy so that vertical growth control of Maxilla are required.
I usually use Activator-Headgear for those cases, and obtaining quite excellent results with Maxillary growth inhibition and Mandibular growth promotion.
Considering his answer, the reason why he didn't do so was seemed to be misunderstanding of the Center of resistance of High pull/Occipital pull Headgear.
We can avoid Molar intrusion force even for High pull Headgears.

After Breakfast of 29th, I run to the JOB room to see the results.
The doors were still kept closed at scheduled opening time, and I was so nervous.
Praying with Budda, "please give me good news,,," my heart beats.

About an hour delayed, the door was opened, and all candidates run to their table.

The results: All my Lingual cases passed the exam.

Then a lot of colleagues came to me and said "Hey Toshi, you never fail. If you fail, who can pass?"
However I think I am just an Orthodontist in tiny local city, so I am very happy that I could pass it.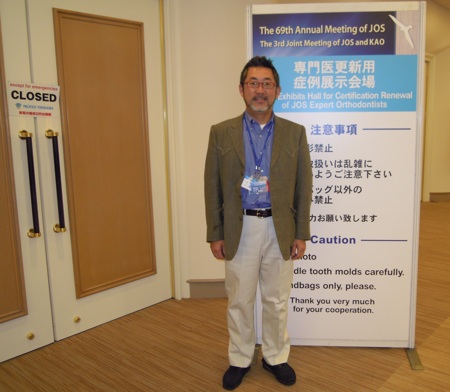 (Taking pictures in the room was not allowed so I took it in front of the room.)

I deeply appreciate my patients who signed the application.
There are some orthodontists who want to apply for JOB but can't because they can't get patients' agreement.
I am very very happy, and I am reassured that the Patients-Doctors reliability is well established in my office.

I have tried a lot of exams with Lingual Orthodontics not aiming at being famous but just for my treatment to be evaluated by the third parties.
I think I could prove that the quality of my Lingual Orthodontic Treatments are kept quite high.

After leaving the JOB room, I headed to the Main Hall and heard Dr.Mulligan's "Who does your thinking? You or your appliance?"
He is a great Orthodontist, I respect him all the time since I graduated the University.
I want to be an Orthodontist like him in future.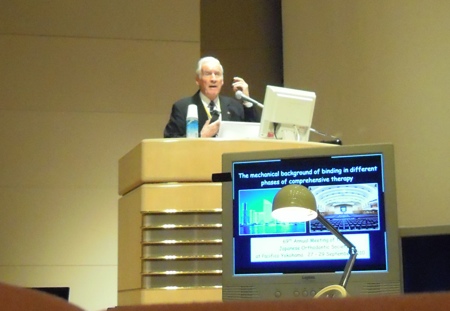 (Photography is prohibited during the lecture. This is right after the lecture, I took it in confidence, sorry.)

There were many excellent Poster Presentations about Root resorption, Osteocrasts, Relapse, Affects of Fluoride against tooth movements, Ligation-Friction, etc..

The next JOS meeting will be held in Nagoya Convention Center, 18 to 20 November, 2011.


Postscript:
About JOB, there is a false website made by "The Japanese Orthodontic Specialist Directory Production Committee".
The website has confusing explanations as if it is posted by JOS, but this "Committee" is no relation to JOS.